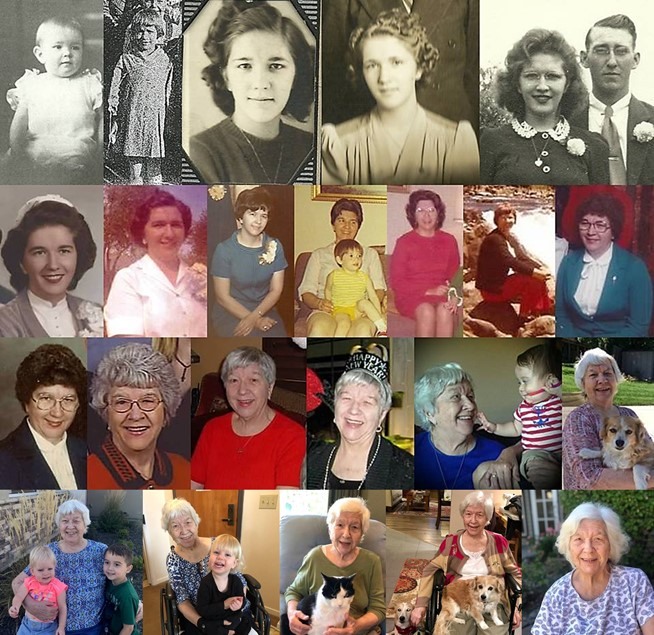 October 12, 1926 — November 6, 2020
Mae passed away peacefully on the evening of November 6 at the age of 94.
Mae was born on October 12, 1926 to Otto and Elenora (Hoppe) Grummert on their family farm near Plymouth, Nebraska and baptized the same day. She was the youngest of four children.
Mae grew up on the family farm and was confirmed at Peace Lutheran Church in 1940. She attended Plymouth High School where she was active in many programs and clubs. She graduated in 1944.
Shortly after high school, Mae met Harold Hansel and they started dating. Harold and Mae were married on May 5, 1945 and enjoyed 66 years of marriage before Harold passed away on July 31, 2011. They had two children, Lucille and Robert. Harold and Mae were fortunate to have traveled the country and the world. They especially enjoyed going to Germany to visit family farms and meet relatives. They were charter members of Sheridan Lutheran Church in Lincoln, Nebraska where Mae also taught Sunday and Bible School for many years as well as being active in several church groups.
After living in Nebraska their entire lives, Harold and Mae moved to Yakima, Washington in January 2000 to spend their senior years with granddaughter, Maria and their great-grandchildren. They loved being able to be there while Erin and Alec grew up and be a part of their lives. Once again, they became highly active in their community by joining Central Lutheran Church, volunteering at the Food Bank, Habitat for Humanity, church programs such as quilting and much more between them.
Mae was gifted with a good memory and was known by many as the family historian. She knew about all sides of the family trees from the top of her head if anyone asked until her last day. She loved and cherished her family but was also blessed with many good friends.
Mae was preceded in death by husband, Harold Hansel; daughter, Lucille; her parents, Otto and Elenora Grummert; brother, Orland Grummert; sister, Endalena and husband Roy McArtor; sister, Dorothy and husband Dale Smith; and other relatives and friends.
Mae is survived by her son, Robert; granddaughters, Maria and Lisa; grandson, Rob; granddaughter, Deb; great-grandchildren, Erin and Alec; great-great-grandchildren, Apollo, Charlotte and Penelope; along with many nieces, nephews and their children; and other family and friends.
Mae's services will be graveside at Lincoln Memorial in Lincoln, Nebraska next week. She will rest along side her husband, Harold and daughter, Lucille.
In lieu of flowers, please donate to Wags to Riches Animal Rescue, https://www.wagstorichesanimalrescue.org/donate.htm.
Yakima Herald, 12 Nov 2020