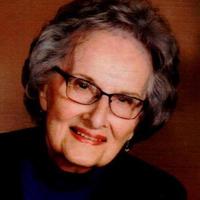 Maxine Lillian (Ruhnke) Hoppe of Fairbury, NE, passed away on Monday, January 6, 2020 at the age of 91.
Maxine was born to Max and Augusta (Krause) Ruhnke on June 6, 1928 in Fairbury, NE. She grew up as the youngest of five children and graduated from Fairbury High School in 1946. She married Marvin Hoppe in October 1946. They were married for 30 years until his death in 1977. She was a hardworking and devoted farm wife. She worked as a seamstress for several years and was a secretary and ward clerk at Jefferson Community Health & Life for 26 years, retiring in 1998.
She enjoyed her grandchildren and great grandchildren, Husker football and volleyball, attending sporting events, her church family, playing cards with friends, listening to Big Band music and reading. She was known for her legendary culinary skills, especially her homemade bread, cookies and pies. She was very grateful for the help and friendship of Mary Stepp and Joyce Heidemann in recent years.
Maxine is survived by her five children: Randy Hoppe, Beatrice; Nancy Lowe, Lincoln; Dick (Mary) Hoppe, Fairbury; Brenda (Mike) Carpenter, Lincoln; Todd (Nancy) Hoppe, Lincoln; eleven grandchildren; 12 great-grandchildren and numerous nieces and nephews. She is preceded in death by her husband, Marvin; her brothers, Ervin, Leon and Harlan Ruhnke; her sister, Esther Connell and son-in-law, Sid Lowe.
Her celebration of life will be on Saturday, January 11, 2020 at 10am at American Lutheran Church in Fairbury, NE. Memorials designated to the American Lutheran Church in Fairbury and St. Paul UCC Cemetery.