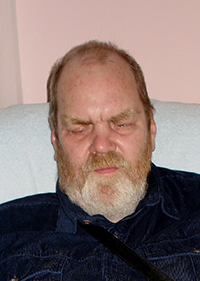 Roger Leon "Lonnie" Merritt was born in Lincoln, Nebraska on September 21st, 1950. The family moved from Omaha to Nebraska City a short time after Lonnie started attending the Nebraska School for the Visually Handicapped. He was a good student, always inquisitive, ever learning and researching topics of interest at the library for long periods after school hours. He was involved in many activities including wrestling, swimming, amateur radio and graduated in 1968. Lonnie went on to attend Kearney State College for two years and a short time later one year at the University of Nebraska in Omaha.
After leaving school Lonnie started a long career as a photo finishing technician in the darkroom at Calandra's in Omaha. He continued there after Qualex, a division of Kodak, took over and spent a total of 34 years with them before digital photography forced them to close.
Lonnie learned about HAM radio operation while at the Nebraska School for the Visually Handicapped and was an avid novice and expert operator. He was part of the National Radio Club and participated in the DX Audio Service group. He enjoyed going to DX Expedition weekend rallies and contacting radio operators worldwide. He participated several times with the Radio Club in Fremont, Nebraska and Minnesota.
Lonnie was a member of the Omaha Federation for the Blind for many years and enjoyed attending conventions and meeting to keep in touch with friends and topics relevant to him. He was also active and helpful in the Omaha Association for the Blind.
Lonnie was fiercely independent and lived in Omaha most of his years maintaining his own residence comfortably and navigating around town on foot quite well.
Lonnie thoroughly enjoyed listening to Major League baseball on the radio and his favorite teams were the Kansas City Royals and the Saint Louis Cardinals. He used to memorize a vast amount of statistics regarding players batting averages, team wins and losses, unusual and unique facts, etc. Lonnie also loved to read Braille magazines and listened to audio Talking Book novels, biographies, short stories and magazines. He listened to pre-recorded music and loved the Country Western genre.
Lonnie went to his heavenly rest with our Lord on November 11th, 2014. He is survived by his mother, Margie Dahlgran; his sister Vona (Robert) Parker; his brothers Steven (Carol), Kerry and Robert (Linda) Merritt; stepsisters Carolyn (Hugh) Berry and Liz (Marvin) Baldwin; stepbrothers Edwin (Jane), Jim (Dava), Roger (Janice) and Bill (Tina) Dahlgran and numerous uncles, aunts, nieces, nephews and cousins who will dearly miss him.
Memorial services will be on Tuesday, November 18th, 2014 at the First Presbyterian Church located at 216 South 34th Street, Omaha, Nebraska 68131 at 3:00 PM. Pastor Rick Sleyster will be officiating and Chapel of Memories is in charge of services. A time of fellowship will follow the memorial service at the church.