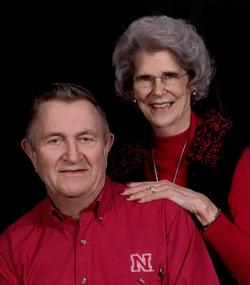 Rex Alonzo Stewart, 85, died April 20, 2015, in Rogers, Arkansas. He was born February 16, 1930 in Farnam, Nebraska to Harry and Ollie (Uhlig) Stewart.
Rex graduated from Farnam High School. He was a farmer, welder and a pilot.
He lived in Gothenburg with his wife and two sons before moving to Ft. Wayne, then Lincoln, Nebraska where he attended the University of Nebraska and graduated with a Mechanical Engineering Degree. He worked for Western Electric Omaha Works, retiring after 30 years. He maintained his IFR pilot license throughout his life. Rex owned and flew many small airplanes during his life a Champ, Piper, Mooney, Bonanza and Grumman, but his most enjoyable plane was his beloved Glastar which he built and assembled himself. Rex and Mary used their Nebraska football season tickets for over 30 years, only missing a few games during that whole time to do opening day pheasant season in western Nebraska.
Rex was a lifetime member of American Society of Mechanical Engineers, American Pilot Owners Association, Experimental Aircraft Association and served tirelessly on many boards and positions with the Methodist church. He was particularly proud of his induction into the Quiet Birdman's and his award from the FAA for 50 years of piloting without an accident.
Rex and Mary enjoyed retirement to Northwest Arkansas for over 20 years, spending time traveling, visiting grandchildren and helping with church activities. Rex enjoyed his gardens, fishing with friends, golfing and was the consummate airport hanger tinkerer. Rex was a valued contributor to all of his friends, relatives and hanger buddies and will be missed by all.
He was preceded in death by his parents, two brothers Harlan and Frank, four sisters, Arvetta, Eva, Maxine and Neva.
Rex is survived by his wife of 64 years, Mary Stewart of Bella Vista, AR; sons, Brad Stewart (Lisa Marie) of Montrose, CO, and Bryan Stewart (Lisa Kay) of Albuquerque, N.M.; six grandchildren, Brad Stewart II, Jenna Stewart, Ben Stewart, Nick Stewart, Corey Stewart, Cassandra Stewart; one great grandchild Lillyan Stewart; and numerous nieces, nephews and cousins.
A Memorial Service will be held at Highland Church, A United Methodist Congregation, Thursday, 1:00 p.m. April 23, 2015 with Pastor Bryan Fink officiating.
Memorials, in lieu of flowers, may be made to Highland Church Endowment Fund, 1500 Forest Hills Blvd., 371 Glasglow Road, Bella Vista, AR 72715