Introduction
Index
Nebr. Map
Wyo. Map
Utah Map
Cal-Nev Map
Trail Links
Home


Journal of Western Travel
by John McTurk Gibson
edited by Weldon Hoppe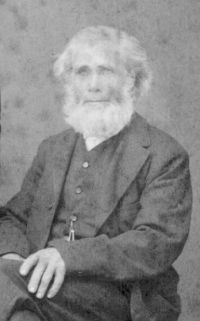 In 1859 my great-great- grandfather, John McTurk Gibson (pictured at right), traveled on the Oregon-California Trails during the Pike's Peak gold rush. His trip began from his home in Marengo, Iowa where he left his wife and small children and set off with several friends in search of wealth and a better life. He kept a record of his trip and called it Journal of Western Travel.

A companion of Gibson's, John. W. Powell, also recorded his experiences on the trip. Both accounts are provided here, in their entirety, along with maps, photos, links and other information for the enjoyment of others with an interest in trail history. The contents of Journal of Western Travel and this site are protected by the copyright laws of the United States of America and by applicable international laws and treaties. The Gibson journal content was entered from a copy of the journal made by Gibson once he arrived in California. This copy is owned by the editor and is on loan to the Saunders County Historical Society Museum in Wahoo, Nebraska. The Powell diary content was entered from a typescript located at Bancroft Library at the University of California-Berkeley. No portion of this site may be reproduced in any form, or by any means, without prior written consent. To obtain reproduction consent, e-mail Weldon Hoppe.

Follow along on their journey by paging using the arrows at the top and bottom of the each page, Right to go forward, Left to go backward. Also, along the left page margin, links to clickable maps allow you to jump to entries for selected landmarks along the route. The following page is the first entry after leaving Marengo. Gibson gives us an idea of his intentions and thoughts as the company of men set out on their journey.


Copyright © 1997 Weldon Hoppe