A letter from Hannah Wordsworth, sister of Thomas Thompson: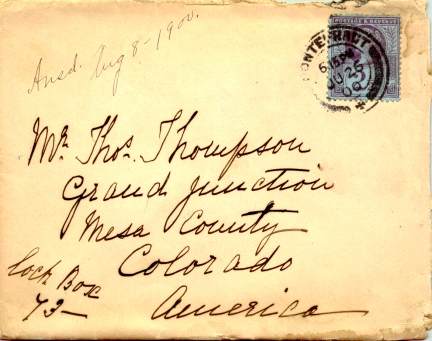 The back is postmarked:
GRAND JUNCTION, COLO. REC'D.
JUL 7 12 M 1900
Friar Wood, Pontefract, Yorkshire, England
June 26th 1900
My dear Brother Tom --
My heartfelt love and sympathy to you & to each of your dear children in the great loss of your beloved wife & mother. May the Lord whose tender mercy and loving kindness is over all his children be your comfort & stay in this your bereavement. Whom the Lord loveth he chasteneth. do as an old divine said to his wife, love Jesus, and follow her to Heaven. Now my dear Tom I [am] sorry that you are so poorly I pray that the Lord may soon restore you to your former health and that his blessing may rest upon you and yours. I enclose an order for a sovereign for you to get a few little extra comforts now that you are not well. Tell dear Matie to answer this letter as writing is a chore to you. I will excuse, tho you are not yet my age. I am in my 77th year you know. My good husband is about the same as when I last wrote to you. Tell Matie to give me the names of all her brothers & sisters. Then if I am spared I will write to her. Both our brothers are well I hope but I seldom hear or see them. The cares & changes of this life seem to take all [their] attention. But thank God they are in the midst of all. Looking for a better life a home Eternal in the skies. They will be sorry to hear of your loss. Now good by for the present. With dearest love to you and to each one of the children especially Matie.
Your ever loving sister


Hannah Wordsworth
---