A letter from Hannah Wordsworth, sister of Thomas Thompson: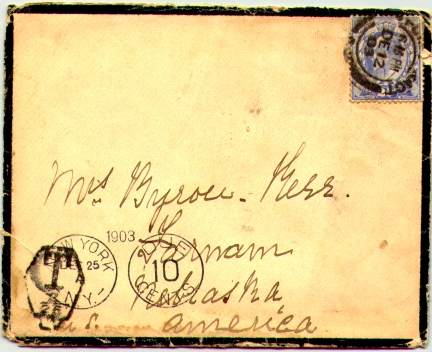 The back is postmarked:
FARNAM, NEBR. REC'D.
DEC 28 1 PM 1903
Dec 11 1903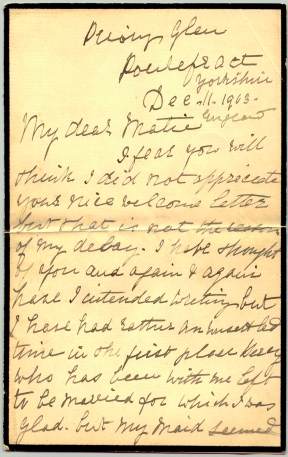 Priory Glen
Pontefract
Yorkshire
England
My dear Matie
I fear you will think I did not appreciate your nice welcome letter but that is not the reason of my delay. I have thought of you and again & again have I intended writing but I have had rather an unsettled time in the first place Percy who has been with me left to be married for which I was glad. But my maid seemed to think we should be so very lonely just we two. But however she settled down after awhile. Now we are nicely settled again as for myself I have not the least fear. We are having bitterly cold weather. & I have to be most careful indeeed there is much sickness in the town and many deaths. That it is rather alarming at my time of life. I was rather suprised to hear of your baby sister getting married. But still I was glad for her to have a house of her own. & I sincerely trust a good kind husband to take care off her. I hope your sister Ethel baby & her husband are quite well also all your dear sisters & brothers with you and yours.
You ask dear if I see or hear of the Bristol friends no they seldom write & as for seeing they may be as well in America. They are all doing well. And seems only to care for each other. Uncle Joe is full of rheumatism. I will give you their address then you will stand a chance of hearing from them as sissy is a kind girl and will write I have no doubt. I expect Wesley will be living near you now as Ada said they thought of leaving Colorado. Percy does not live far from me. But you see dear I am not able to get out only by cab or bus. So that I feel myself safest at home. But they are very anxious for me to go to Whitly this xmas. It depends on my health & the weather. I have been most of this week in bed and that is often the case but I am very happy & contented.
The Lord is good & cares for me with more than a fathers care. Mercies new and repeated every day of my life. And I never forget to ask him to remember each one of my beloved brother Toms children. May he bless you indeed and prosper the work of your hands. I am thankful dear to hear that you have good crops this year. A great deal of grain could not be garnered in to make money about here & many of the little farmers are in a bad plight. Poor farmers. The rains have been so continuous and hundreds of acrers of potatoes have been under water and could not be got out with the plow.
I think I have nothing more to write about. I seem to grow bad at writing tho they tell me I am clever. My hand keeps steady but my sight is failing a little also my hearing and memory. But I can get about the house very nicely at times. I shall always be glad to hear from you. Will you please give my love to each one of your sisters and brothers. And with dearest love to you & yours. I am so glad that your dear husband is better as well as yourself.
God bless you
Your loving Aunt
H. Wordsworth
ps
Excuse blunders
The following is on the back and is the address for "Sissy" that Hannah promised in the letter.
Miss Thompson
Jessamine Cottage
Whitley Bridge
B.S.O. Yorkshire
England
PS. I hope you will have a very happy xmas and a blessed New Year.
---